The Photoluminescent Safety Sign is a high-tech project with low investment, quick results and high added value. To date, many people still do not understand and understand the product. There is still a large space in the country with a vast market, and its social and economic benefits are immeasurable.
luminous ink preparation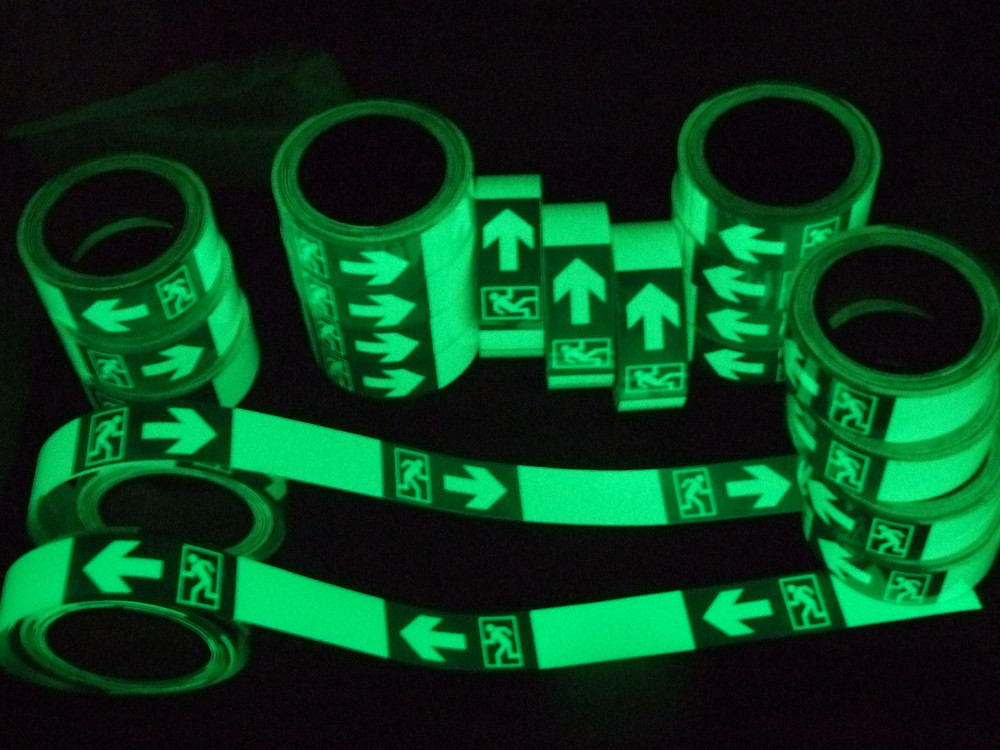 Cyclohexanone solvent (industrial) 50%
Polyvinyl chloride resin (powder or granules) 20%
Rare earth luminescent powder (ultra-high brightness) 33%
Rare Earth Luminescent Powder Product Specifications Product Name Price (Yuan/kg)
High brightness 200 mesh 680
High brightness 200 mesh 450
Medium Brightness 200 mesh 270
Low brightness light powder 160
Producing high-quality "photoluminescent Safety Signs" products, in line with the attitude of being responsible for the safety of the people, must be selected as the best quality ultra-bright rare-earth Luminous Powder. Do not use fluorescent powder instead of your own brand.
plate making materials
Diazo photosensitive adhesive (solvent-resistant type)
Polyester screen cloth (120-200 mesh)
printing process
1, PVC sheet cut with a paper cutter, not only saves time, but also fast and good, neat corners, no burrs, and no scars on the board.
2. Before printing screen printing inks, it is necessary to print a plastic ink white and then screen printing ink. Because white has a reflective effect, the brightness is 100.
3, found in the printing plastic ink dry and easy to seal, affect the quality of printing, should be coupled with slow-drying agent to use.
4, whether it is printing white plastic ink or light ink, from the distance to the bosom squeezing, when the ink back from the arms to the distance, the squeegee direction should be the same, covered ink consistency.
5. How much ink is squeegeed on the PVC board depends on the dynamic pressure of the squeegee. Scraper hardness 70 ° -75 °, the vertical corners to be smooth, the length of the scraper should be 2cm-3cm on both sides of the screen. Squeegee angle pressure and speed should be mastered by themselves, and necessary adjustments should be made in time.
6, when printing finished products to install aluminum alloy frame or plastic frame, the edges of the frame should be polished smooth, so as to avoid rough, cut the sense of the hand, should pay attention to clamping the frame angle, can not be loose, after the installation is complete, must be immediately Bagging, to avoid damage to the surface of the signboard, packing and storage of qualified products.
JINAN REALGLOW CO.,LTD
Business Type:Manufacturer
Product Range:Traffic Signs
Products/Service:PHOTOLUMINESCENT SIGN , IMO SIGN , PHOTOLUMINESCENT PIGMENT , EXIT SIGN
Certificate:ISO9001 , MSDS , REACH , RoHS , UL
Company Address:BUILDING 119, XINMAO NEW MATERIAL HIGH-TECH ZONE, TIANQIAO DISTRICT, Jinan, Shandong, China